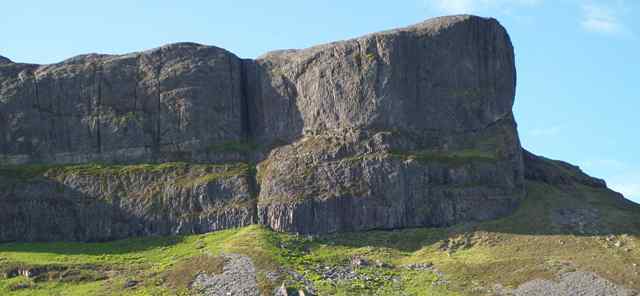 Plants in Vice-County 104: A Review of January - June 2018
Skye Botany Group met twice, visiting Loch Vorvin in Waternish, and Soay.
Monthly articles on matters of local botanical interest continued to be written for Am Bratach, the Raasay Community Newsletter until time just got too short for a June article.
Over 7,300 records were made in VC104 in the first half of 2018 including 95 new hectad records, although a few of these are the result of subspecies recording e.g. Betula pubescens subsp. tortuosa where Betula pubescens was already recorded. Many thanks to all who have contributed so far this year.
Skye
New to VC104 – all garden escapes/throw-outs or planted:
Allium paradoxum (Few-flowered Garlic) at Caroy
Crinodendron hookerianum (Chinese Lantern Bush) in Dunvegan Woods
Darmera peltata (Indian-rhubarb) at Armadale
Griselinia litoralis (New Zealand Broadleaf) at Dunvegan
Sorbaria sorbifolia (Sorbaria) at Tayinloan
Ulex minor (Dwarf Gorse) at Dunvegan – to be confirmed
Veronica longifolia x spicata (Garden Speedwell Hybrid) at Broadford. We have decided it is the hybrid rather than pure Veronica longifolia (Garden Speedwell) as it is really quite hairy. First record for Scotland – though far from established yet, being a single plant near other plants of garden origin like Lysimachia punctata (Dotted Loosestrife).
General:
A second Sleat site for Ammophila arenaria (Marram) was only the third recent record for Skye, the second being found not too far away in 2013.
The first Skye record for Erodium cicutarium (Common Stork's-bill) since 1988 was made with seven plants by a forestry track.
Quite a lot of old hectad records have been re-found i.e. plants known in a hectad from before 2000 but not seen since, notably several each for Arctostaphylos uva-ursi (Bearberry) and Nymphaea alba (White Water-lily).
Soay
On Soay at the end of June Skye Botany Group added three plants new to NG41: Carex extensa (Long-bracted Sedge), Cotoneaster integrifolius (Entire-leaved Cotoneaster) and Ribes rubrum (Red Currant), the last two being garden escapes, but the first is welcome – if a bit of a surprise that it had not been recorded before.
We also saw four that had not been recorded in NG41 since before 2000: Carex oederi (Small-fruited Yellow-sedge), Carex leporina (Oval Sedge), Elytrigia repens (Common Couch) and Rosa mollis (Soft Downy-rose) although he last of these may turn out to have some hybridity.
Small Isles - Eilean nan Each
 An excursion to Eilean nan Each (Horse Island) off Muck added Gymnadenia borealis (Heath Fragrant-orchid) to the island list but failed to find the previously recorded Coeloglossum viride (Frog Orchid). As on other small islands in the area it seems that Greylag Geese are changing the vegetation - as evidenced by the addition of plants like Capsella bursa-pastoris (Shepherd's-purse) and Matricaria discoidea (Pineappleweed) to the list.
Stephen J Bungard
July 2018
County Recorder
Ceol-na-Mara, West Suisnish, Isle of Raasay, by Kyle, IV40 8NX
01478 660248
mobile on meeting days: 07549 184831
email suisnish@outlook.com
Read my Blog
Flora of Skye
For photographs of the plants of Skye, visit Carl Farmer's fine web site Skye Flora.
The Botanist in Skye and Adjacent Islands
by C.W. Murray H.J.B. Birks, Prabost and Bergen 2005 ISBN: 0-9548971-0-2
Available at £10 (Postage and packing extra). Email me for details.