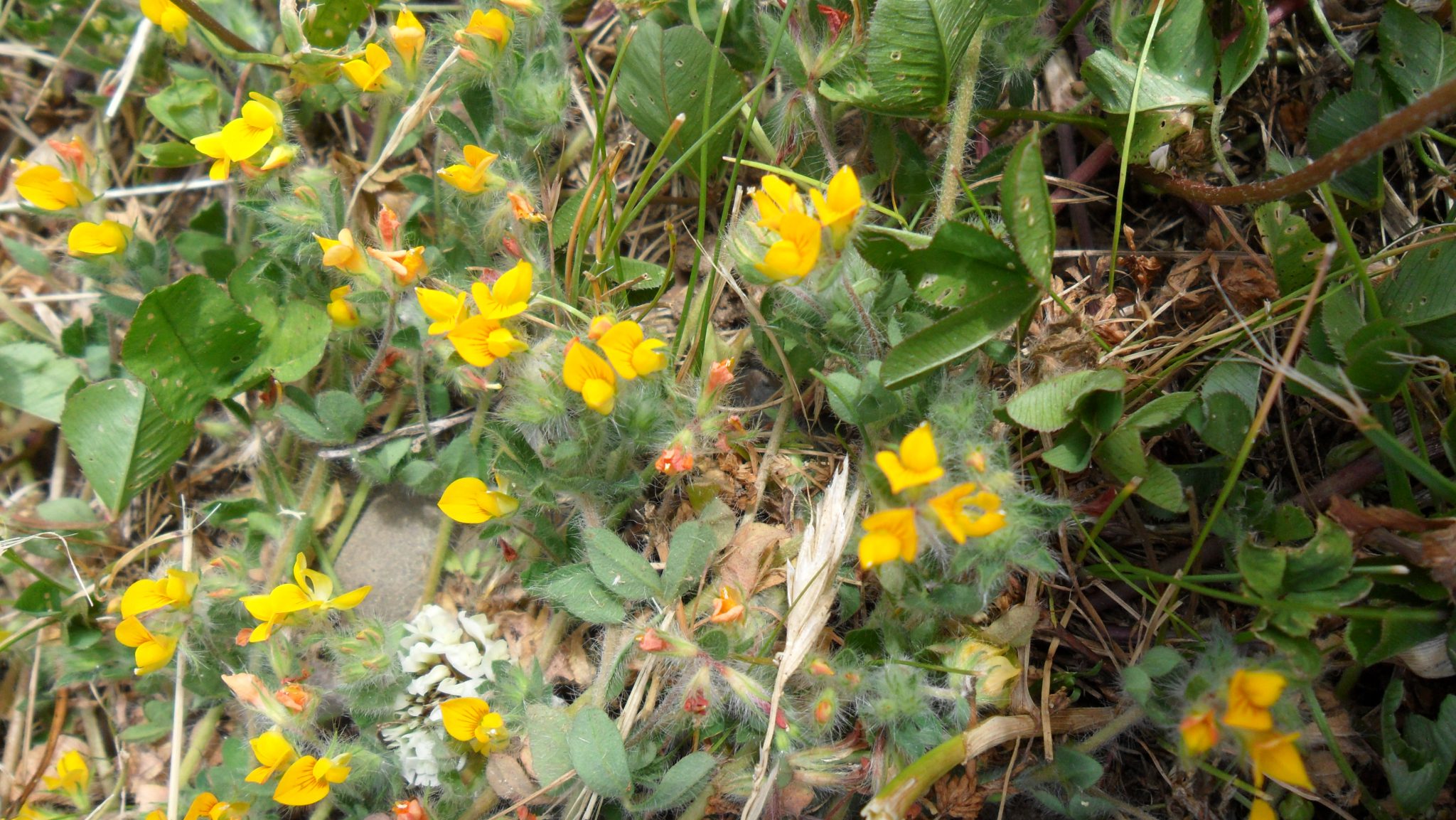 Recording in Co. Wexford (v.c. H12) in 2017
2017 was another fabulous year for recording towards a Flora of the county. Records were collected over the whole year, by 41 individuals. 23 new species and hybrids were added to the county list, and if you include subspecies, varieties and cultivars there were 27 new for the county. Of these, 8 were native, and include 4 species, 3 hybrids and 1 variety.
My joint vice-county recorder Paula O'Meara collected just over half of all records received in 2017. Paula's best find and only new native species is of Parentucellia viscosa (Yellow Bartsia) from a disused sand pit at Ballyleigh (S75943441). Paula also added new to the county: Scilla siberica (Siberian Squill) naturalised in graveyard at Killann (S84894198); Brassica oleracea var. oleracea from a road verge at Kilbride (S75060813); Paeonia lutea (Yellow Tree-peony) from base of cliff, Cherry's Road, New Ross (S72082799); Bellis perennis f. plena well naturalised on verge of car park, New Ross (S71672132); Sorbaria sorbifolia (Sorbaria) self-sown on high wall at Ballymore Demense (T10125086); Anthriscus cerefolium (Garden Chervil) on pile of soil at Tagoat (T10261138); Anaphalis margaritacea (Pearly Everlasting) on an overgrown hedgerow away from habitation, Mocurry East (S87684615). Paula came across a weedy beet field at Monart East (S91734283), three of the species found; Euphorbia exigua (Dwarf Spurge), Kickxia elatine (Sharp-leaved Fluellen) and Valerianella dentata (Narrow-fruited Cornsalad) hadn't been reported from the hectad since the 1890s and Erysimum cheiranthoides (Treacle-mustard) was the first hectad record since 1994. Paula's Erigeron acris (Blue Fleabane) by an abandoned building at Grange Demesne (S82074127) was the first hectad record since 1892, and on the gravel drive of a disused house at Raheendarrig (T09014400), was a new hectad record for this rare species.
Brian Seales's Phygelius capensis (Cape Figwort) naturalised on a wall at Ballinesker (T1141329058) is the sixth county record.
Cara Daly found Vicia sepium var. ochroleuca on a road verge at Ballinacur (T1909753112), this is the eighth county record for this form of Bush Vetch with cream coloured flowers, rather than the normal purplish colour.
Amaranthus hybridus (Green Amaranth) appeared at the base of Frankie Tennant's bird table in his garden at Ballykelly (T0515), the second county record and the first since 1990. Frankie's Senecio x albescens (S. cineraria x S. jacobaea) on a road verge on Fourth Commons (S9716618088) is a new hectad record.
Joanna Hodghton did most of her recording in the Killanne (S84) area of the county where she made the seventh county record for the garden escape Pulmonaria officinalis (Lungwort).
Mark Roper and Paddy Tobin found several Ophrys apifera var. trollii on the dunes north of the Raven (T1126), this form of the Bee Orchid has a pointed and asymmetrical labellum rather than the normal rounded one. This is a new county record and would appear to be the first record for Ireland.
Martine Brennan came across Lamium amplexicaule (Henbit Dead-nettle) at the base of a wall at Loftus Hall (S74610010), this is the first record for the hectad since 1994.
Roy Watson found 23 patches of Trifolium scabrum (Rough Clover) in the centre of a track on the coast at Cullenstown (S8687207806), this is the first report from the area since 1972. Roy added two new sites for Crassula tillaea (Mossy Stonecrop) at Rosslare (T0916), from along a sandy track on Rosslare Golf Course and the other by the entrance to a house.
While Zoe Devlin was out with Paula O'Meara at Mountelliott (S7173829792) she found a Gorse that puzzled her. At first it was thought to be Ulex minor (Dwarf Gorse), after much examination and help from various friends, it was identified as Ulex x breoganii (U. europaeus (Gorse) x U. gallii (Western Gorse)), a new hybrid for the county.
My favourite find of 2017 was two Galeopsis ladanum (Broad-leaved Hemp-nettle) on the margin of a stubble field at Craan Upper (T09276265), a species I had never heard of before, and a new county record. I added 3 native species and 2 native hybrids to the county list, Taraxacum ronae being the first of these found on a road bank at Knockroe (S78903058) on 10th January. This Dandelion has black spots on the leaves to help with identification. In May, Carex canescens (White Sedge) was found in a bog within a few metres of the Co. Wicklow border at Cummerduff (T05926803). August saw me walking along the shore of Lady's Island Lake (T0904) where I found Atriplex praecox (Early Orache) scattered along the shore, where it was with one of the new hybrids Atriplex glabriuscula (Babington's Orache) x A. praecox. The other hybrid, Juncus x diffusus (J. effusus (Soft-rush) x J. inflexus (Hard Rush)) was found in a disused sand quarry at Ballyconnigar (T13583344).