A Botanical Tour of Berwickshire
A botanical tour of Berwickshire, 2013. Full version in pdf format (2 MB).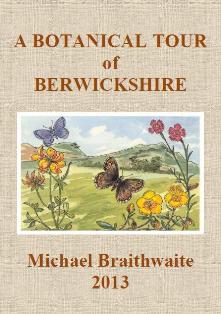 A short Flora of Berwickshire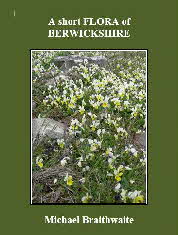 This Flora of 432 pages was published in 2014.  It is liberally illustrated in full colour with photographs and distribution maps.  English names for the wildflowers are shown alongside the Latin names throughout the book.
The main sections are (i) an illustrated botanical tour of Berwickshire, (ii) full species accounts for a selection of 415 species, including 1 x 1 km distribution maps in a variety of formats showing the historical records as well as recent records and (iii) a full checklist for 1,573 species and other taxa with status, habitat and 1 km frequency.
Further sections cover the history of botanical recording in the county, various aspects of recent change in the flora and supplementary analysis.  As Berwick upon Tweed does not fall in Berwickshire its flora is discussed in a separate section.
The book itself is out of print, but a 40MB PDF is now available for free download on this webpage.
County Recorder
After Michael Braithwaite's retirement and a long gap, we have appointed Rob Cowe as the new County Recorder of Berwickshire.