Caernarvonshire has every habitat, from its mountainous area culminating in the highest peak south of the Tweed, Yr Wyddfa (Snowdon), wonderful rugged coastline around the Lleyn peninsula with its little offshore islands including Ynys Enlli (Bardsey) to the magnificent oak woodlands in the Conwy valley close to the county boundary and the Migneint, one of the largest upland blanket bogs in Wales. The plant diversity is therefore extensive and includes an important percentage of Britain's alpine flora while the northern limestone headlands support a large number of rare and scarce species including Wild Cotoneaster, unknown elsewhere in the world.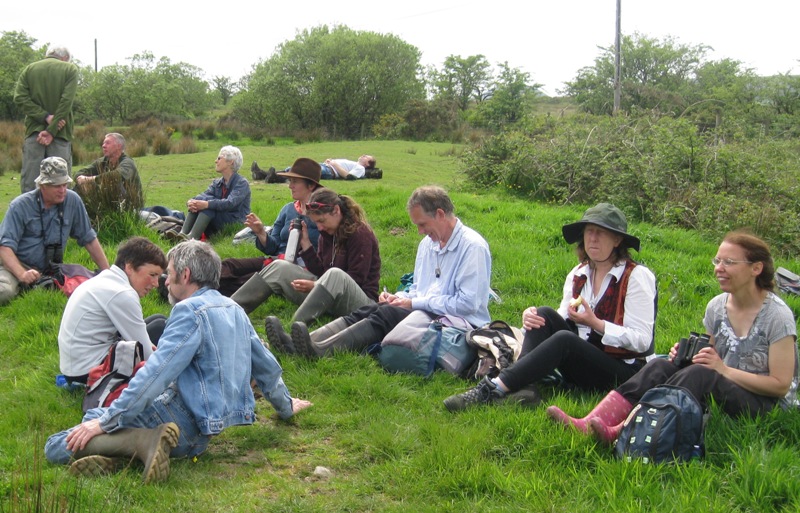 The Caernarvonshire recording group meets once a month from April to September and anyone is welcome. Most tetrads, there are approximately 447,  have been visited at least twice but there are many which are under-recorded and I can provide species lists for anyone who would like to adopt a 10k square or a tetrad or would prefer to do some casual recording.
The Caernarvonshire Rare Plant Register was produced in 2008 but it now needs updating and work is ongoing to provide better detail for a future register.
The only county flora which has been published is J.E. Griffiths' Flora of Anglesey & Carnarvonshire 1895, it is a valuable source of records and second hand copies may still be found.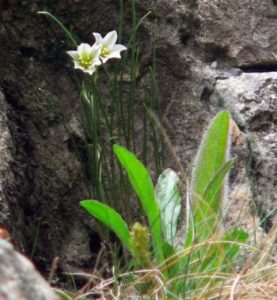 Lloydia (Gagea) serotina (Julian Driver)
Caernarvonshire Recording Meetings 2017
Here are this year's meetings. For the next 3 years we will be aiming to update records for Atlas 2020. Please bring lunch, waterproofs and waterproof boots or wellies. Anyone is welcome and we often see interesting mammals, birds and insects. Meetings start at 10.30am.
Friday 7th April:  Mynytho common. We will walk over the common to look for Viola lactea and possible hybrids with V. riviniana. Park near Ysgol Foel Gron (there is a car park but may be in use on a school day) SH301311
Friday 12th May: Ffriddoedd Garndolbenmaen. We will search for Ophioglossum vulgatum and Vicia orobus in SH5044. Meet at 10.30am in the community centre car park at SH497441 (this meeting is rescheduled from last year due to pouring rain)
Friday 9th June: Moel Lefn & surrounds. There is calcareous flushed grassland to explore around SH551480 so there will be a longish walk in. Park near Cwrt Isaf farm at SH539463
Friday 14th July: Chwilog. Footpaths across heathland & fields. Park in lay-by at side of lane to cemetery at SH431386, we will walk west along road to start of footpath at SH428386
Friday 11th August: Cwm Lloer. An upland lake and river, with footpath on north side of Llyn Ogwen if time allows. Park at the side of A5 opposite Glan Dena  SH668605 
Friday 8th September: Beddgelert. If the weather is fine we may climb Moel Hebog, otherwise we will record around the village. Park in the car park (fee payable I think) at SH587482
Mobile tel. no. on meeting days: 07952655932 or email Wendy.