Following Government guidance and in the interests of health and safety, field meetings were cancelled in 2020 until further notice. The BSBI Trustees continue to closely monitor the situation and will issue advice on changes as promptly as possible in 2021. For further information please contact your County Recorder(s).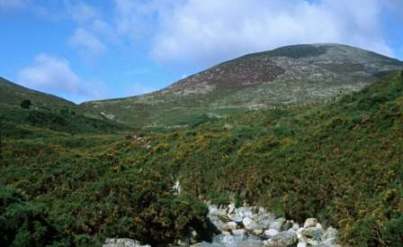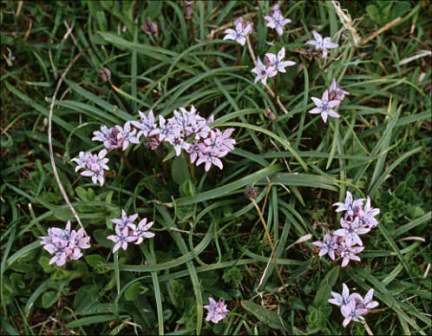 County Recorder
The County Recorder is Graham Day.
Tel: 028 4272 9906 (home)
Mobile on meeting days: 07764794687
Scroll down for the 2020 programme of field meetings.
Co. Down recording in 2019
With work for the forthcoming atlas coming to a close, during 2019 an emphasis was placed on recording in hectads that had the lowest number of records. Use was made of species lists to identify taxa that really should be there, but hadn't yet been recorded for the 2020 atlas.
The 1st of January was a very cold day but 53 species were found in flower in Newcastle on the New Year Plant Hunt. The list was boosted by several species sown in a wild flower seed mix including Centaurea cyanus (Cornflower) and Glebionis segetum (Corn Marigold).
My recording season properly began in late April with the first of several visits to Banbridge. Polystichum aculeatum (Hard Shield-fern) was a good find by the river, as was a large colony of Fumaria purpurea (Purple Ramping-fumitory) at an amenity site. A single Fascicularia bicolor (Rhodostachys) plant was found in woodland where it had been planted, but it is unlikely to persist in this unsuitable habitat. A subsequent visit to Banbridge finally produced Asplenium ceterach (Rustyback) on an old wall close to the river.
In early May, part of the Connswater, Knock and Loop rivers in Belfast was walked. The location has had extensive planting and significant efforts have been made to improve biodiversity. Equisetum x litorale (Shore Horsetail), Glyceria maxima (Reed Sweet-grass), Carex pseudocyperus (Cyperus Sedge), C. riparia (Greater Pond-sedge) and C. acutiformis (Lesser Pond-sedge) were found in marshy areas. But unfortunately, Lagarosiphon major (Curly Waterweed) was completely dominating a large pond. A repeat visit in early June produced Lysichiton americanus (American Skunk-cabbage) by the Knock river.
In early June a visit to the Comber Greenway at Knock to confirm Lathyrus nissolia (Grass Vetchling) also produced Thlaspi alliaceum (Garlic Penny-cress) and Vulpia fasciculata (Dune Fescue). In August Jacqueline Gray sent photos of Adonis annua (Pheasant's-eye) from Knockbracken, a probable stray from a seed-mix, and a probable first for Ireland.
The recording meeting in mid-August was in the Mournes on the Banns Road to Lough Shannagh. Huperzia selago (Fir Clubmoss) was seen in small numbers at the highest point on the Banns Road. Sparganium angustifolium (Floating Bur-reed) was seen in a bog pool and Oreopteris limbosperma (Lemon Scented-fern) at the edge of the lough, but perhaps the most pleasing find was a small colony of Neottia cordata (Lesser Twayblade) on the slopes near the lough.
In September records were made of Atriplex and Salicornia taxa on the shores round the county. During these trips, Salsola kali (Prickly Saltwort) was found growing in gravel at Killough, and another notable was Helminthotheca echioides (Bristly Oxtongue) from a wild flower seed mix by Kilclief.
The last monthly meeting took place at Grey Point in heavy rain and was eventually abandoned. One interesting find was the hybrid jacobaea x albescens (Silver x Common Ragwort).
Thanks to those who attended meetings and contributed records during the year, including Suzanne Belshaw, Lesley Crawshaw, Paul Hackney, Anne McComb, Ian McNeill, Margaret Marshall, Daniel Kelly, Dave Riley, Ian Rippey, Valerie Macartney and John Wann among others, and especially Jo Whatmough who sent in comprehensive detailed records from Murlough NNR.
The Flora of County Down
This is a new project, beginning in 2010, for 10 seasons, to record the flora of County Down for a proposed publication. A new date class will be used, Date Class 5 (2010-2019), as initiated by the BSBI. This would essentially require that there be new complete coverage of the county. Species will be recorded to 1 km or better, with mapping to 2 km squares.
The current status of records held on the database Recorder for County Down is:
Total vascular plant records for County Down: 237, 487
Date class 1: pre-1970:       6,411
Date class 2: 1970-1986:   17,520
Date class 3: 1987-1999: 105,397
Date class 4: 2000-2009:   71,754
Date class 5: 2010-2019:   36,405
No. of taxa: 1,872 [all status]
Field Meetings Programme 2020
Sunday 19th April 11.00 a.m. Cloughey
Maritime and ruderal plants. Meet at the tennis court end of the car park by the sand dunes, J64215734.
We will be looking for Cochlearia taxa and other early spring plants.
Saturday 16th May 11.00 a.m. Montalto Estate, Ballynahinch
Joint meeting with the Belfast Naturalists Field Club. Meet in the estate public car park, J364513. Access is from the Spa Road B175 to the south of Ballynhinch, J372512. We will walk some of the trails recording woodland plants.
Be prepared to be out until mid-afternoon. Facilities include a café and toilets. An entrance fee is payable. https://montaltoestate.com/
Sunday 21st June 10.00 a.m. Ballykinler
Meet at the entrance to the MOD grounds, J43423655.
If you wish to attend it is essential that you contact me well in advance so that I can compile information required to pass security. Photographic identification (driving licence or passport) will be required on the day.
We will record in the dunes to the south and west.
Be prepared to be out until late afternoon and take a packed lunch.
Note earlier start time.
Sunday 9th August 10.00 a.m. Slieve Muck, Mourne Mountains
Blanket bog and cliff plants. Meet at the layby off the B27, J27092523. Be prepared for wet and rough ground and to be out all day. Take suitable clothing for inclement weather, a packed lunch, and supplementary food and drink for safety purposes. Note earlier start time.
Sunday 6th September 11.00 a.m. Killough
Salt marsh plants including Atriplexes. Meet in the car park by the pier, J53843617. Be prepared for wet, muddy ground.
Sunday 4th October 11.00 a.m. Greencastle
Coastal plants. Meet at the roadside at the point, J24081180. We will look at plants around Greencastle and along the lough-side to the north. Be prepared for wet muddy ground and to be out until mid-afternoon.
Recording Card
If you would like to record in the county, then you may download the County Down recording card here. Species lists should normally be within 1 km squares where possible (4 figure grid reference), with rare plants preferably recorded to 10 m (8 figure grid reference). Any notes on rare species found would be appreciated.