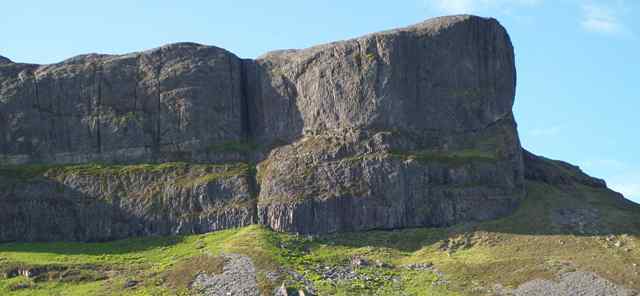 Plants in Vice-County 104: A Review of January - June 2019
Over 8,000 records were made in VC104 in the first half of 2019 including 91 new hectad records, although a few of these are the result of subspecies or aggregate recording. Many thanks to all who have contributed this year.
Skye Botany Group met three times, visiting Sgùrr nan Gillean, Kimaluag and Torrin.
Early in the year a considerable amount of analysis of VC104 records was undertaken in order to help prioritise recording trips during the season. As well as poorly recorded areas, this highlighted tetrads that had the most records of plants not re-found in the relevant hectad. These are potential hotspots for re-finding plants missing at the 10km level.
Additionally, areas where Anemone nemorosa (Wood Anemone) and/or Ficaria verna subsp. fertilis (Lesser Celandine) have not been recorded were used as an indicator of places not visited early in the season in recent times. Visiting some of these areas proved quite useful. A similar approach using Gentianella campestris (Field Gentian) as an indicator species will be tried in the late summer.
Several mountaineers have sent record from the Cuiilins which has helped to improve coverage of these high peaks.
Neil Roberts deserves special mention as he has been sea-kayaking in order to reach tetrads with small land areas (islands, skerries and inaccessible areas of Skye) and no vascular plant records. By the end of the season there should be no tetrad with more than 2% land and no post-1999 records.
Skye
New to VC104 – all garden escapes/throw-outs or planted:
Ornithogalum umbellatum (Star-of-Bethlehem)
Iris sibirica (Siberian Iris)
and two to be confirmed:
Berberis julianae (Chinese Barberry)
Spiraea hypericifolia (Iberian Spirea)
Daphne mezereum (Mezereon) has escaped along the road at Borve and is new to Skye
Good numbers of old hectad records were re-found i.e. plants known in a hectad from before 2000 but not seen since.
Stephen J Bungard
July 2019
County Recorder
Ceol-na-Mara, West Suisnish, Isle of Raasay, by Kyle, IV40 8NX
01478 660248
mobile on meeting days: 07549 184831
email suisnish@outlook.com
Read my Blog
Flora of Skye
For photographs of the plants of Skye, visit Carl Farmer's fine web site Skye Flora.
The Botanist in Skye and Adjacent Islands
by C.W. Murray H.J.B. Birks, Prabost and Bergen 2005 ISBN: 0-9548971-0-2
Available at £10 (Postage and packing extra). Email me for details.