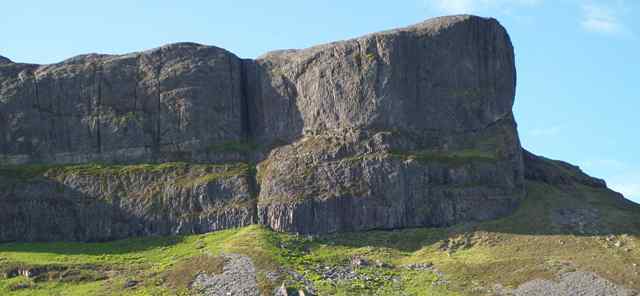 Plants in Vice-County 104: A Review of July - December 2018
Over 12,500 records were made in VC104 in 2018 including 201 new hectad records, although a few of these are the result of subspecies or aggregate recording. Many thanks to all who have contributed this year.
Skye Botany Group met twice, visiting Camas Bàn and an area south of Duntulm.
Throughout the northwest of Scotland, including VC104, June/July was marked by widespread flowering of Utriculara stygia (Nordic Bladderwort) – something that does not usually occur and was presumably triggered by the long dry spell in May.
Early in the year, but omitted from the January – June report, a talk was given to Skye Gardening Society on "Where Do Plants Belong?"
Skye
New to VC104 – all garden escapes/throw-outs or planted:
Antirrhinum majus (Snapdragon)
Armoracia rusticana (Horse-radish)
Betula papyrifera (Paper Birch)
Betula utilis var. jacquemontii (Jacquemont's Birch)
Echium plantagineum (Purple Viper's-bugloss)
Iberis umbellata (Garden Candytuft)
Inula hookeri (Hooker's Fleabane)
Laburnum alpinum (Scottish Laburnum)
Salix udensis (Sachalin Willow)
Salix x sepulcralis nothovar. sepulcralis
Plus an uncommon hybrid rose: Rosa caesia subsp. vosagiaca x spinosissima
Hieracium ascendentidens (Harris Hawkweed) was recorded for only the second time in the vice-county.
Acaena inermis (Spineless Acaena) continues to spread on Skye with a new site found on the Quiraing path.
Determination of further Arctium specimens as Arctium minus subsp. pubens (Lesser Burdock) suggests that this is the common taxon in the vice-county, though more work is needed.
Good numbers of old hectad records were re-found i.e. plants known in a hectad from before 2000 but not seen since.
Raasay
Leycesteria formosa (Himalayan Honeysuckle or Pheasant Berry) is spreading near Raasay House. This is new to Raasay in the wild and seems to be increasing rapidly on Skye and the adjacent Scottish mainland.
Two Glebionis segetum (Corn Marigold) plants in flower on a road verge near Inverarish seem most likely to have come from a wildflower seed mix, though long-dormant seed cannot be ruled out as a source given recent soil disturbance from forestry operations.
A planted specimen of Salix x fragilis nothovar. Basfordiana that has survived for quite a few years was recorded, new to Raasay and the second record in the vice-county.
Stephen J Bungard
January 2019
County Recorder
Ceol-na-Mara, West Suisnish, Isle of Raasay, by Kyle, IV40 8NX
01478 660248
mobile on meeting days: 07549 184831
email suisnish@outlook.com
Read my Blog
Flora of Skye
For photographs of the plants of Skye, visit Carl Farmer's fine web site Skye Flora.
The Botanist in Skye and Adjacent Islands
by C.W. Murray H.J.B. Birks, Prabost and Bergen 2005 ISBN: 0-9548971-0-2
Available at £10 (Postage and packing extra). Email me for details.